Go to Gift Certificates > Create New from the left hand menu. Alternatively, you can find this function in the 3rd quadrant under the Gift Certs tab.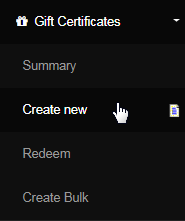 This area is for the creation of Gift Certificates, which are used to gift member account funds to another member. These certificates can be used to purchase signup orders, transfer money directly to another member's account and/or purchase any items, limited to the worth of the gift certificate.
In order to create a new certificate, simply fill in the details for the required fields as described below and then click on the Submit button to proceed.
Select the currency from the drop-list in which you wish the certificate to be issued. The page will be refreshed accordingly.
Current Account Balance: Displays the balance in the member's Personal Account for the selected currency type.
Current Fee: Displays the amount of funds that is to be charged for issuing the certificate as set in Member Transfer.
Amount: Enter the amount the certificate is to be issued for. | Message: Type in a personal message for the recipient.
Email To: Enter the complete email address of the recipient. The person will be receiving the gift certificate through that process.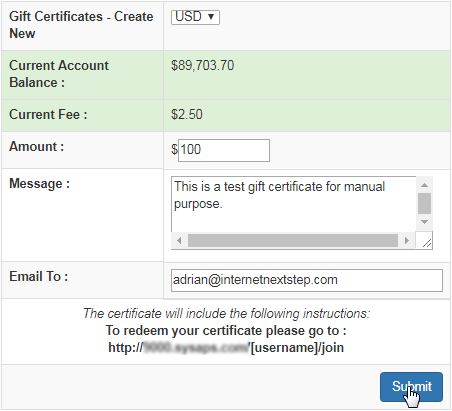 Once the request is submitted, the page will refresh and a Certificate Created Successfully message (in red) will appear at the bottom of the page.

Note: It may be required to approve the request by a system admin before the actual transfer takes place, based on the system settings. Once the admin approves the transfer, immediately the email would be sent (to the ID mentioned) to the recipient, containing the details of the gift certificate.
In order to redeem the certificate, the user needs to visit the company website - the URL will be displayed above the Submit button. The URL field (on display) is a macro which takes up the website name the member has logged into. For admin users: Make sure you understand the logic behind this.
As the system can handle multiple URLs, the website that you have logged into will display in various areas. Contact support for any query.
---