This is a TUTORIAL on how to execute print outs of the invoices listed in your system.

For shipping purposes, it is required to get a hard copy of the invoice to attach that with the product or for sending the invoice through email you need to get the invoice in a PDF document. The system gives you the ability to save the invoice in a PDF format of which you can take print out for.
Process Print Out

Go to System > Charge Invoice > Printing from the left hand menu or click on the Printing option under System section on the home page.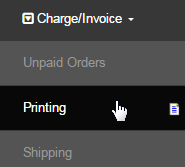 This will take you to the Admin Charging/Invoicing printing page. Click on the respective warehouse where you should the invoice you are looking for.
The list of all the invoices for the chosen warehouse will be displayed. To select the order for printing, tick on the check-box at the end of that row.
Order Number: The order or the invoice number. Click on this to get a full view of the order.
Username: The username of the member you has placed the order.
Name: The full name of the member you has placed the order.
Order Date: The date and time on which the order has been placed.
Amount: The total amount of the order payable to the the company.
Progname: The name of the system event that triggered the order entry.
Weighbill: The weigh-bill number attached to the order (if any).
Country: The country where the member who placed the order belongs to.
Back Order: The information specifying whether it is a back order or not.
Shipment: The shipping formula that has been applied/charged for the order.

Note: if you want to select all the invoices in the current list for printing, then simply tick on check-box just below the Select All column label.
Now to process the printing of the invoices, scroll down to the end of the list and then click on the Mark selected as Printable button. Do not get confused as the it will refresh will back to the same page. The rest of the process will be continued in the Shipping section of the Charge/Invoice.

---
Generate Print Out

Once the Printing page gets refreshed, go to System > Charge Invoice > Shipping from the left hand menu to bring up the Printing & Shipping page.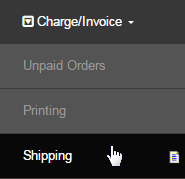 Next, click on the Generate Invoice PDF link in the Invoices section for the warehouse you wish to generate the invoice for printing purpose.

A dialog box will be appear (displaying the number of invoices that you have selected), which will ask you to confirm your action. Click on the Generate button and wait for the system to complete the process. Then you will be given the link to download the PDF file. Save the file in your computer.


Now you can use the PDF file to print out the invoices (hard copy) or send the file through email attachments (soft copy).
---