Go to Tools & Settings > Withdrawals from the left hand menu. Alternatively, you can find this function in the 3rd quadrant under the Withdrawals tab.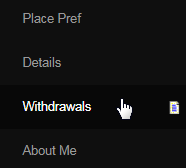 This will take you to the Automatic Payment Request Settings page, which more specifically deals with setting up the automatic withdrawal request by the member. Requests made here are subject to admin approval before going through. You can switch off the request any time you want.
First off, select the Payment Method through which you want to request the withdrawal (from the drop down list). The system would refresh the input fields based on the method you have chosen. The instructions (if any) set by the company for that method would appear in a blue box above.

Select whether you want to request an automatic withdrawal of money. The conditions for triggering an automatic withdrawal will be set later on this page. The triggering of the withdrawal is done by admin; the Automatic reference is to pre-setting the withdrawal amount - NOT when it will occur.

Next, you need to fill in the address of the payment method you have chosen. In case of withdrawal by Cheque, you can either Use default mailing address on file or enter a new address. For the later option, fill in the address fields below. The saved details will populate by default.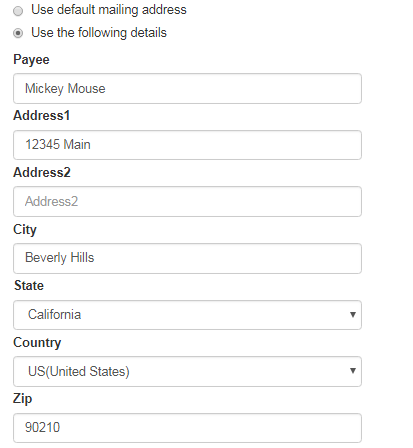 At the bottom of this section, you need to specify the criteria to trigger the automatic request and then click on the Submit button to save your preferences. This section is important, so make sure you are setting these details correctly. The system would trigger the function upon meeting the criteria as follows.

When Amount is over: Automatic payments will proceed when triggered by Admin only if your member account has more than the balance amount entered here. Triggers the automatic withdrawal request when the amount exceeds the balance in the member's Personal Account.
Amount to leave in account: The amount entered here is what will remain ( minimum balance) in your Personal Account after the automatic withdrawal is processed. This is important. Remember that you may have other costs, such as autoships, which will require additional funds.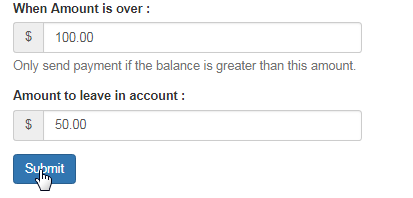 Once approved by Admin, the payment should be processed and issued. You can disable the automatic withdrawal request as follows;
Under the Automatically generate payment request area, select the No option and then click on the Submit button at the bottom.
On the 3rd Quadrant (member) > Withdrawal > Setup Automatic Withdrawal - Auto Request header, click on the No switch.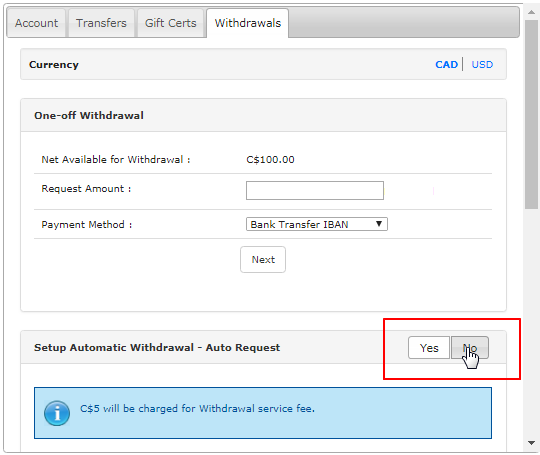 ---