The URL Shortening tool helps to replace a long URL with a shorter one by creating an alias link. The system provides this feature for every Distributor in their account back-office, to make use of it as and when required. This is a very handy tool for Twitter, or for placing Advertising, etc;
For example, lets say your MLM Company replicated website is: http://www.thebestmlmcompanyintheworldforme.com/ilovemlm.
This URL is over 50 characters long. In Twitter, you usually only get a space of 90 characters to make your point.
Also in a magazine or newspaper, you would have a two-line URL, adding confusion and lots of cost to your advertisement.
Go to Tools & Settings > Shorten URL from the left hand menu. Note: Admin can choose whether or not to enable this feature.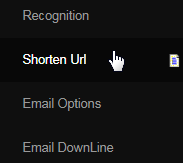 The instructions are clearly described in four easy steps on this page. However, we have described the steps here as well for your convenience:
Copy the URL (address bar) that you want to create a shorter version of and then paste it in the Long URL box.
Select the Domain from the drop-down list that you wish to use from the list; for example: twt.bz.
Enter the Shortcut text that you wish to use; for example: Join and then click on the Submit button.

The system will confirm this and you will see that you can use something like http://twt.bz/Join, instead of your huge long URL (see below).

---