Go to Tools & Settings > Place Prefs from the left hand menu. Alternatively, you can find this function in the 2nd quadrant under the Placement tab.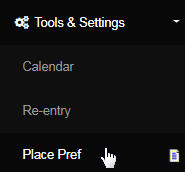 This page allows the members to change his/her General Placement Settings. Alternatively, this function resides in the 2nd quadrant under the Placement tab. A member can choose which leg/side he wants to place his downlines and then save the preference by clicking on the Update button.
Profit Centre: displays the profit center the member is in. This option is only relevant if you have multiple profit centers in your comp plan.
Side: which side or leg of the downline tree the new signups would be placed. System Default is set as defined by the commission plan.

The other way of defining the future placement is setting the number of users to be placed under a certain downline member. Check the Information panel for this placement type before you start. After the placement criteria as specified is fulfilled, the system would return to the General Placement Setting.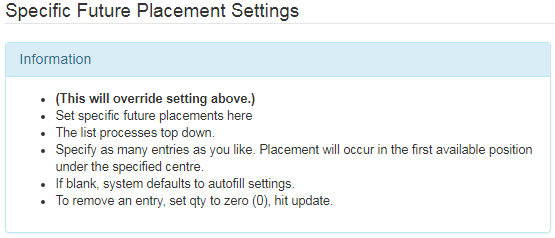 Enter the required fields (as described below) and then click on the Add Placement button. You may enter several placement rows in a similar way.
Qty: The number of new signups to be placed. | Username: The username of the downline member under whom the signups will be placed.

The list of the Specific Future Placement Settings would appear and will be processed in the order by which you have added the same. In our example (below), the system would place the next 3 new signups under the user testsign072001 followed by the next 2 signups under the user testsign013001.

You can also change the quantity field by simply editing the value and then by clicking on the Update button at the bottom of the page to save the changes. In order to remove a row, change the Qty value to 0 (zero) and then click on the Update button. The page would refresh with the new settings.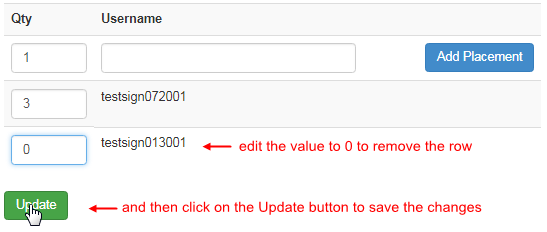 Note
The changes will take effect after updating the preferences and for new signups only. This wont change the existing placement of the downline.
For example, if a member changes the placement setting at 5 in the evening, then the signups after 5 p.m. will be placed in the downline tree as specified. All the signups that took place before 5 will not be affected by this setting (i.e. will be placed as set prior to 5 p.m.).
---