Go to Tools & Settings > News Feed from the left hand menu. The posts as set in the news feed appears in the 1st quadrant under Status tab.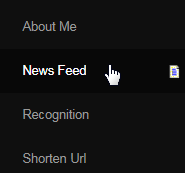 This redirects to the News Feed Option page, where the member can change the preferences on News Feed display. It is a Facebook Wall like feature which displays the preferred post within the members (or as events occur in the system). If you change a setting, click on the Update button to save.
Show in my news feed when I sponsor someone: Will display (for everyone to see) in your news feed when you sponsor a new person.
Show in my news feed when I rank up: When ranking up it will be shown in your news feed each time you reach a new rank.
Send email me when a news item generates about me: To receive an email notifying you that someone has mentioned you in his news feed.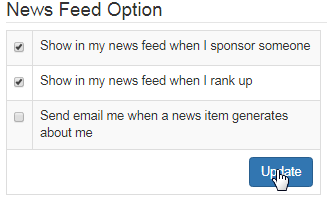 ---
News Feed in the Members Lounge

The News Feed is a Facebook-style events notifier which shows what the other members (which you have as friends) are up to. This will also detail events for yourself such as enrolling new members, other system events, etc. The post will be displayed in the Status tab in the Members Lounge.

After you have shared something it will appear in the News feed. It will be displayed in the order of Your Name, Username, what you are sharing, how long ago it was posted. You have the ability of commenting on your own and other posts. You also have the ability to delete your own post if you wish.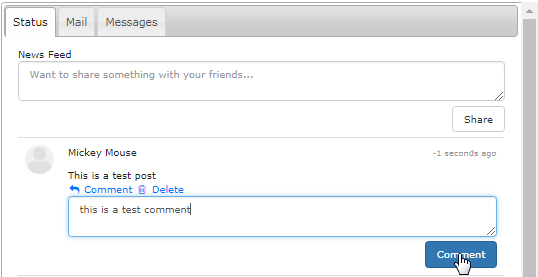 ---