Go to Tools & Settings > Email Options from the left hand menu. Note: Admin can choose whether or not to enable this feature.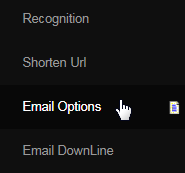 This will take you to the Member Email Options page which contains a set of switches to manage what emails are received and what emails are prevented. Simply change your preferences by selecting the option from the drop-list and then by clicking on the Submit button below to save.
Generic Email from upline: The emails that are sent to the entire group (downline) from an upline member.
Individual Email from upline: The custom emails sent by an upline member only to a specific email address (inter-member emailing feature).
Email from company: The emails received from the company/organization (not system emails).
Email From About Me Page: The emails received from prospects as a result of submitting details in the contact form via the About Me page.
All Emails from System: The emails that are sent by the system - triggered as a result of a certain event occurring.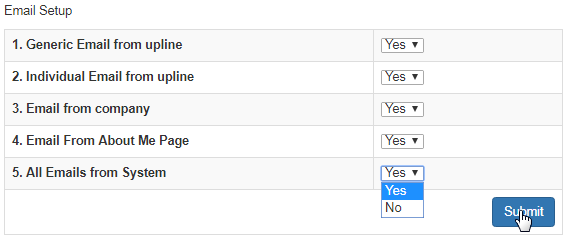 Read the instruction/note as displayed in the box below. Any questions, contact the company's support staff or raise a ticket asking the same.

---