This is a TUTORIAL on how to edit the Terms and Conditions that the user's see when signing up.
---
Note:If you're having trouble when uploading your own T & C, it is best to transfer all your information from a word document to a notepad document. It's best to use a notepad, so it reduces the word garbage in it. If your word document is long, this may also cause problems when trying to upload, especially if you are trying to paste words directly from word to the T & C editor, because it almost doubles the text that you see.
---

Go to Configuration > Website Setup > T & C Editor from the left hand menu or click on T & C Editor under Configuration on the home page.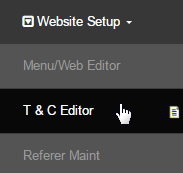 You will then be redirected to the Client Includes Edit page, where you need to select for which user type you want to edit the T & C from the drop-list.
Terms & Conditions - Distributor|English populates the English version of the T & C page for the distributor in an editable format.
Terms & Conditions - Customer|English populates the English version of the T & C page for the customer in an editable format.

The system will take you to the T & C template for the option you have chosen. To go to a different template, select the one from the drop-down list.
Page Description: The name or a short description of the page/template you are in.
Page Version: The number of times the current terms and conditions have being updated.

Design the terms and conditions in the web-editor provided. If you already have the content ready in an HTML format, you can enter that in the Source tab. Make use of the tools provided by the editor to design the content that suits your requirements. Then save the changes before you exit.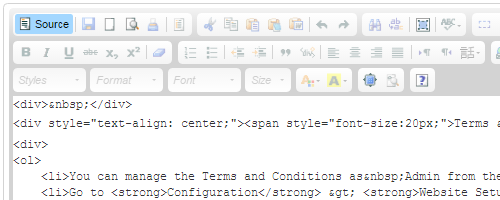 Now, clicking on the Save button will only update the current version of the T & C, which means only the new users who sign up into the system will be able to see and agree to the latest T & C of your company. In order to notify the existing users, also check on the Update Version box before saving.

---