To have our Quote of the day Engine display in your Admin and Members lounge follow these steps.
The Quotes here refer to the motivational or inspirational messages that are displayed in the Members Lounge. There are over 2500+ pre-set quotes defined into the system and it is designed to display a random quote each and every day. You can also add new quotes or manage the existing ones.

Managing the Quotes

Expand the System menu in the left hand side and then click on the Quote Engine item to go to that page. Here, you will notice that at the bottom of the page, the quotes are arranged in a tabular format (20/page), showcasing the other details as well, along with the option to edit the individual ones.

You can add a quote of your own in the Add New Quote section. To learn more about adding or editing quotes visit the Quote Engine manual page.

---
Enable or Disable Display

You can enable or disable the display of quotes in the Members Lounge. Go to Configuration > Admin > Display from the left hand menu.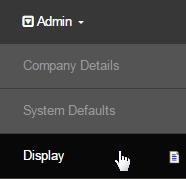 This will take you to the website Display configuration. Change the value of the Display Quote of the Day? field as you prefer. To disable the display of the quotes, select No from the drop-list and then click on the Update button below to save your preference. By default the value is set to Yes.


---