This is a TUTORIAL on how to Edit the LOGO on your Invoice and other related functions.

Note: The only thing you can edit by yourself on the order invoices page is the Invoice Logo. In case you want to change the content or the design of the invoice, we can make those changes for you. If you would like that to happen, please contact us and we will give you a quote.
Go to Configuration > Website Setup > Graphics Editor from the left menu or click on Graphics Editor under Configuration on the home page.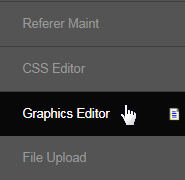 This will take you to the Graphics Editor interface. Here you need to select the link of which user type you want to change the graphics for. Click on the View Graphics for Admin/Members Area link to bring up the graphics for the Admin and Members display (this area will auto-populate once chosen).

Before you start with your action, please read the instructions carefully, along with the preference for the size and dimensions of the invoice logo.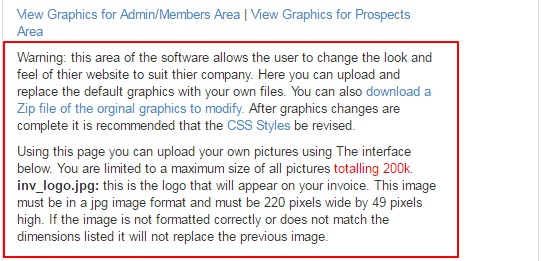 First, you need to select the correct Referer from the drop-list. It is very important to learn that for every Referrer type, there is a different set of graphics. If you want to change the invoice logo, then you must change it for every Referrer type made available in your system to reflect this change.

One of the most common issues raised by the clients is that they have uploaded the invoice logo into the system, yet the correct logo does not appear on the invoice. This is due to the fact that they have changed the logo for only a certain Referrer, while they are looking at the logo for another type. Be careful when you do this process.
After selecting the Referrer, scroll down the list to find the inv_logo.jpg. Click on Choose File to browse and open the file from your computer.

You will notice that the file name is displayed next to that button. Click on the Upload button to upload the file in the system and save the changes.

Repeat the same step for every Referrer you wish to make the company logo available for. Check the invoice to confirm if the correct logo is being displayed. In some cases, you will need to hard refresh (Ctrl+F5) or clear the browser cookies to solve the non-display issue. Contact INS Support for any query.
---