Click on Viewers on the left hand side to expand the menu structure and then click on the Viewer Binary sub-menu.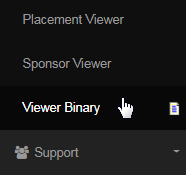 This will open up the Downline Viewer page in a new browser tab. It is a graphical left-to-right representation of the downline tree of the member. Unlike other reports, it is designed in a simpler fashion for easier understanding. Note that this report is only available for the Binary commission plan type.

The legends, icons and color schemes are explained at the top left corner of the page. These are self-explanatory and easy to understand. You can also jump to the graph of a downline viewer by entering the Username at the top of the page, and then by clicking on the Jump to Username button.

When you have jumped to a downline member and you want to get back to the start, click on the <<<<Up link at the top. This would go back a step by one level. The other way is to simply jump into a username - this would reduce all the extra steps and time if the tree is too long.
It shows 5 levels of the tree initially including the root member. A right arrow would appear at the bottom right of the graph when there's more levels to show. Click on that arrow to go to the next page. To go back to the previous by one level, click on the <<<<Up link at the top of the graph.
---